Accessible Training Videos Improve Employee Learning & Engagement
October 16, 2020 BY JACLYN LEDUC
Updated: March 16, 2021
Accessible training videos are beneficial to everyone. For individuals with disabilities, being able to access and learn from training videos is necessary for their job success. For those without disabilities, accessible video can increase comprehension, improve focus, and create better learning outcomes.
The driving principle for accessible training videos is universal design for learning (UDL). UDL argues that the best learning happens when you provide multiple ways to engage and interact with content. It is an approach that considers many different learning abilities and styles and aims to connect with all learners.
Providing accessible internal training videos is key to creating an engaging, impactful, and accessible experience for all employees, with and without disabilities.
How Accessible Video Impacts Learning Outcome
Are Corporate Training Videos Effective?
There are great incentives for companies to utilize training videos. Employees can have on-demand access from varying locations, flexible viewing options, customized experiences, and the opportunity to provide feedback.
Training videos are helpful for employees in both remote and in-person training environments. Employees may even prefer video trainings over traditional training materials. According to Forrester Research, 75 percent of employees prefer to watch a video than read an article, document, or email.
Effective training videos must be memorable, impactful, and accessible, accomplished by incorporating accessible video elements. Things like captions, interactive transcripts, and audio descriptions each play a role in improving employees' learning outcomes through training video content.
Accessible Training Videos Improve Engagement, Comprehension, and Focus
To delve into the benefits of accessible training videos, let's take a close look at a report conducted by the University of South Florida St. Petersburg (USFSP). The 2019 report gives insight into student's uses and perspectives of captions and interactive transcripts. It also provides data on accessible videos' impact on student retention, comprehension, focus, and performance.
When it comes to corporate training, employees step into the mindset of a student. The USFSP study results may well extend to learning circumstances of any kind, including that of corporate training environments.
Learning Outcomes
The study demonstrated that adding captions & interactive transcripts to training & development videos can improve employees' learning outcomes. Students within the study who used closed captions had increases in test scores of 15.4 points. Test scores increased by 13 points for those that used interactive transcripts.
This data shows that performance and learning outcomes improve with the use of accessible video elements.
Comprehension, Focus, and Recall
Videos with captions and interactive transcripts kept students more focused on the content. When asked why they use captions, 42% reported that it helps them to focus.
Similarly, 37% of students reported that captions help them to retain information. Captions and interactive transcripts improved comprehension of online learning content by over 13 points compared to those who did not have captions on learning videos.
Transfer of Knowledge
The goal of employee training is to transfer the information learned into daily jobs & challenges. Captions & interactive transcripts had the highest impact in this area, increasing scores by 28.3 points.
According to the Harvard Business Review, two of the main reasons for job satisfaction are achievement and responsibility. Employees who feel empowered to apply what they learn to their daily responsibilities will feel more accomplished in their role.
By incorporating accessibility into training videos, companies can improve the transfer of knowledge, which may, in turn, contribute to employee happiness and job satisfaction.
Discover the Impact of Accessible Training Videos
Who Benefits from Accessible Training Videos
Many people may think of closed captions as a way to provide equal access for people who are deaf or hard of hearing. That's not the only group that can benefit from accessible training videos, though. One finding showed that 80% of those who use captions are not deaf or hard of hearing. This is line with the principle of universal design for learning (UDL).
Remote Employees
Home environments are often distracting. Maybe the children are participating in an online class, your partner is having a Zoom meeting nearby, or your neighbor is mowing the lawn right next door.
With captions, employees can hone in on what's in front of them and focus more when in distracting environments.
Employees with Unreported/Hidden Disabilities
Accessible video elements ensure your training videos are accessible for groups who do not disclose a disability or those whose disability is not visibly apparent.
A study published by the Center for Talent Innovation (CTI) claims that 30% of working professionals in the United States have a disability.
The study also revealed that 62% of employees with disabilities have "invisible disabilities" or a disability that one cannot immediately identify upon meeting a person, including vision or hearing loss.
Employees with Cognitive and Other Disabilities
Captions can help people with cognitive and other disabilities focus, comprehend, and retain information. They are proven to help people with dyslexia, attention disorders, and other disabilities. Interactive transcripts may help those with difficulties staying on task to focus for more extended periods. Audio description may help people with autism identify emotions and learn social cues.
Global Employees
For companies with a global workforce or US-based employees who know English as a second language, captions are critical for more effective communication. Training videos can be translated into multi-lingual subtitles, as well, to ensure that employees whose first language is not English feel more included.
A Note on Legal Compliance for Internal Training Videos
In 2019 the number of web accessibility lawsuits reached a rate of one every working hour.
The Americans with Disabilities Act (ADA) is a broad, anti-discrimination law for people with disabilities – Titles II and III of the ADA affect web accessibility requirements. Title II applies explicitly to employment in public entities. Employees with disabilities must not be barred from performing responsibilities due to inaccessible processes or procedures, as this is a form of discrimination. State and local entities need to make videos accessible for internal communication, such as training videos and public‐facing material.*
By not providing accessible internal videos, companies may be at risk for potential litigation. FedEx was sued under Title II of the ADA for failing to provide closed captioning for internal training videos.
Learn more about the Americans with Disabilities Act ➡️
Elements of Accessible Training Videos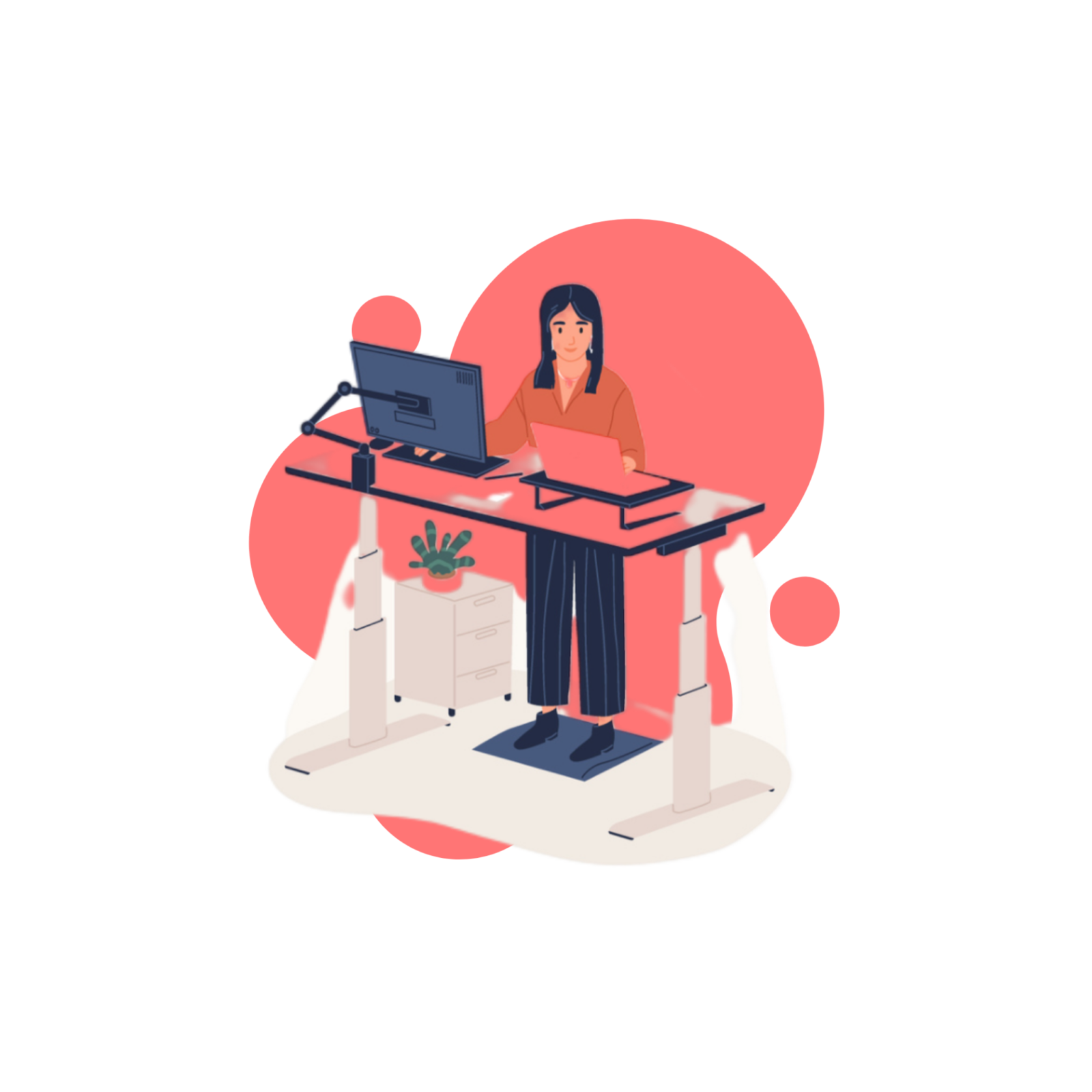 There are four main elements that help create accessible training videos:
Captions
Closed captions provide a text alternative to relevant auditory info in a video. They are time-synchronized and include speech, speaker labels, and all critical sound effects. Captions are an effective tool for engagement, focus, and retention of information.
Transcription
Transcription converts the dialogue and audio of a video into a written document. Closed captions are time-coded to the video, while a transcript is just the text with no time information. Interactive transcripts are time-synchronized and highlight the words in the transcript while they're spoken. Users can search the video and jump directly to specific time-stamps, allowing for an engaging and interactive viewing experience..
Audio Description
Audio description is an audio track that narrates the relevant visual information in media. This element helps people who are blind or low vision as they often cannot see or have difficulty seeing what's on screen. Additionally, audio description supports flexible viewing in different environments and helps viewers pay attention to important visual information.
Accessible Video Players
An accessible video player will support accessibility features such as captions, transcripts, and audio descriptions. It should also be keyboard-navigable and provide speech recognition for those who cannot navigate using a mouse or trackpad.
---
Is your company ready to provide accessible and engaging training videos for employees? We can help you get started with captioning, audio description, and all your video accessibility needs.
*DISCLAIMER: This blog post is written for educational and general information purposes only, and does not constitute specific legal advice. This blog should not be used as a substitute for competent legal advice from a licensed professional attorney in your state.
Subscribe to the Blog Digest
Sign up to receive our blog digest and other information on this topic. You can unsubscribe anytime.
By subscribing you agree to our privacy policy.