Web Accessibility Cases in 2015 and What They Mean for the Future
April 13, 2016 BY EMILY GRIFFIN
Updated: June 3, 2019
2015 was a busy year for web accessibility law. Several high-profile lawsuits, settlements, and regulatory complaints contributed to mounting case law in support of making web content universally accessible to people with disabilities.
These set the precedent for universities, government entities, and private companies to reconsider how they create content with digital inclusion in mind.
Retired Chief Regional Attorney at the San Francisco Office for Civil Rights, Paul Grossman, gave a concise overview of key cases in the webinar The Legal Year in Review: Digital Access Cases.
Watch a recording of his presentation below, or read on for a condensed summary:
Laws at the Heart of Web Accessibility Lawsuits
Before diving into case law, Paul pointed out the laws which are cited in the 2015 digital access cases: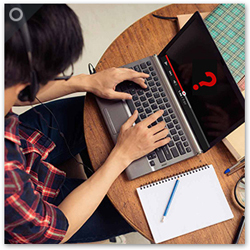 QUIZ: What Captioning Laws Apply to You?
Take this quick quiz to see which laws may require you to add captions to video.
Paul touches on why these laws have been the source of legal disputes: they don't actually mention digital accessibility.
These laws were written before the rise of the internet. Without revisions to include explicit instructions for electronic information technology (EIT) accommodations, companies have had to defend their web accessibility (or lack thereof) in court.
But Paul explains that the laws' apparent vagueness was intended to make them broadly applicable to new technologies:
It's important to understand that the terms in the first part of each regulation are extremely broad. One might even call them a little vague or amorphous.

But the reason is precisely for what's going on now, which is that if we didn't think about whether something was or was not covered, we can put forth general language which eventually some court or someone writing a regulation implementing this law can take and use as a basis to address new things on the cutting edge — such as EIT and the online world.
Deliberate Indifference: Dudley v. Miami University
Why is the term "deliberate indifference" important?
Because to get monetary damages under Section 504 or Title II of the ADA, you must show deliberate indifference in order to get compensation.
In an accessibility lawsuit, if you proved that a company's site was inaccessible to individuals with disabilities, but failed to establish deliberate indifference, they would still have to make their website accessible, but they would not owe punitive damages.
Punitive damages can be a big incentive for compliance. So when an entity like the National Federation for the Blind sues Miami University, it would like to establish deliberate indifference. That's just what they're trying to do in the pending case Dudley v. Miami University.
In Dudley v. Miami University, the NFB posited that deliberate indifference was demonstrated by the fact that the university did not consider accessibility in its software procurement process. In other words, relying on ad hoc solutions after you purchase inaccessible software would not be acceptable and might make you subject to punitive damages.
The Department of Justice (DOJ) investigated Miami University's software and concluded that it was indeed inaccessible to students with sensory disabilities and in violation of Title II of the ADA.
The DOJ released an official statement:
Miami University's failure to make its digital- and web-based technologies accessible to individuals with disabilities, or to otherwise take appropriate steps to ensure effective communication with such individuals, places those individuals at a great disadvantage and deprives them of equal access to Miami University's educational content and services.

The denial of educational opportunities is precisely the type of discrimination that Congress sought to end.
The court has not yet ruled on this case, and it will likely settle.
Compliance Review: OCR Letter to University of Cincinnati
Instead of a class action or private lawsuit, sometimes legal action stems from a formal complaint by a federal review agency like the Department of Education's Office of Civil Rights (OCR) or the Department of Justice.
On this topic, Paul issued a strong call to action: read the OCR letter to the University of Cincinnati and the OCR letter to Youngstown State University.
These letters clearly explain how the government would review an institution's EIT for accessibility. They lay out the legal standards, give examples, and provide insights how inaccessibility affects people who use assistive technology.
For both of these universities, the OCR found that the organization lacked comprehensive communication about and training on accessibility. For example, faculty might post inaccessible PDFs and not even realize it.
Next the OCR examined which webpages got the most traffic and found that they were not accessible either.
The OCR found that the school's practice of ad hoc accommodations responding to specific complaints was not sufficient; waiting until there's a known problem is not what you need to do to achieve compliance.
So OCR entered into a remedial agreement with Cincinnati to develop good policies, but to distribute them, to train on them, and, most importantly, to hire an EIT accessibility coordinator.
EdX Settlement with the DOJ
The DOJ worked closely with edX to ensure their 450+ online courses are accessible.
But if the MOOC is free, does it need to be accessible, legally?
Paul is very clear: "Free or charging $1,000 a minute, it makes no difference whatsoever. If you're covered, you're covered."
What's also important in this settlement agreement is that the measure of compliance used was the Web Content Accessibility Guidelines, WCAG, 2.0 Level AA. If your institution is looking for guidance on accessibility standards, that's a good place to start.
Accommodations and Undue Burden: Reyazuddin v. Montgomery County, Maryland
What is considered an "undue burden" on an employer to make EIT accessible to a disabled employee?
The 2015 Reyazuddin v. Montgomery County, Maryland case offers a clue.
To summarize the facts of the case, the MD county spend $80 billion upgrading their customer call center, but a blind employee who had been working there was no longer able to perform the duties of her job with the new system. The county moved her to a different position that she did not find rewarding, so she demanded that they accommodate her in her original position.
The court originally sided with the county, finding accommodations to be an undue burden, but the Fourth Circuit Court of Appeals disagreed. They took issue with the original verdict, specifically citing how the court has determined undue burden.
The county has set aside $15,500 for its accommodations budget. It's true that the cost of accommodating the plaintiff would be far greater than that. However, the Fourth Circuit argued that:
Taken to its logical extreme, the employer could budget $0 for reasonable accommodation and thereby avoid liability. The County's overall budget ($3.73 billion in FY2010) and the [new system] operating budget (about $4 million) are relevant factors. But the County's line-item budget for reasonable accommodations is not.
They poked more holes in the original court's decision and sent the case back to a jury. The jury determined that she could in fact perform the tasks of her original position with reasonable accommodation without undue burden on the county.
The moral of the story: when you're a large entity with a big budget like Montgomery County, it's going to take a lot to prove that it is an undue burden to make your software accessible.
Closed Captioning Lawsuit: National Association of the Deaf v. Harvard, MIT
The National Association of the Deaf v. Harvard, MIT lawsuit was a very big deal in the higher education. The case centers on incomplete and inaccurate closed captioning for educational videos used in Harvard and MIT courses.
Like the other cases already mentioned, it hinges on the question of whether or not Section 504 and the ADA are clear enough in their application to digital products or services.
The case is ongoing, but the DOJ's support for the NAD and a judge's denial of motion to dismiss bode well for the plaintiff.
On the Horizon: National Federation of the Blind v. Scribd
The biggest question that accessibility law has to answer is: are virtual-only services considered a "public accommodation" under the ADA?
Courts disagree on the answer, as evidenced by conflicting rulings in the NAD v. Netflix case.
In Paul's opinion, the National Federation of the Blind v. Scribd opinion sums it up the best:
The Internet is central to every aspect of the 'economic and social mainstream of American life.' In such a society, 'excluding businesses that sell services through the Internet from the ADA would 'run afoul of the purpose of the ADA and would severely frustrate Congress's intent that individuals with disabilities fully enjoy the goods, services, privileges, and advantages available indiscriminately to the general public.'
In other words: you have to consider Congress's intent in context and recognize that the internet is now so ubiquitous that it can't be excluded from accessibility law.
—
Disclaimer: this blog post does not constitute legal advice.
Subscribe to the Blog Digest
Sign up to receive our blog digest and other information on this topic. You can unsubscribe anytime.
By subscribing you agree to our privacy policy.