2016 Legal Update on Digital Accessibility Cases
Digital access is a civil right, and there is a lot happening in the legal space. Court decisions, government agency activity, and private party settlements are defining best practices and the scope of digital accessibility requirements. Organizations across industries need to be aware of these developments to better understand their legal obligations.
This webinar will be presented by Lainey Feingold, a nationally recognized disability rights lawyer and pioneer of Structured Negotiation known for negotiating landmark accessibility agreements. Lainey's book, Structured Negotiation: A Winning Alternative to Lawsuits, is now available from the American Bar Association (link in bio, below). Her presentation will analyze key cases, government agency activity, settlements, and other developments in digital accessibility through September 2016.
This presentation will cover:
Legal requirements impacting web accessibility
Updates on major digital access court cases, regulations and settlements in 2016
How the law is impacting accessibility in fields as diverse as finance, education, voting, healthcare, employment, and transportation.
U.S. Department of Justice and Department of Education activity in digital access
Best practices for digital accessibility as defined by major settlements
The legal horizon for web and mobile accessibility
About Lainey Feingold
Lainey Feingold is a disability rights lawyer who works primarily with the blind community on technology, digital, and information access issues. She is internationally recognized for negotiating landmark accessibility agreements and for pioneering the collaborative dispute resolution method known as Structured Negotiation. In 2014 and in 2000, she was honored with a California Lawyer of the Year (CLAY) award. Her book about Structured Negotiation is now available from the American Bar Association (but it's not just for lawyers)!
Presenters
Lainey Feingold
Disability Rights Lawyer | Law Office of Lainey Feingold
Lily Bond (Moderator)
Director of Marketing | 3Play Media
---
Webinar Insight: 2016 Web Accessibility Legal Trends and Case Updates
Since so much was covered in the presentation, and so much is happening in the world of web accessibility law generally, we decided to outline main takeaways in this blog post to help make the legal year a bit more digestible to our readers.
The DOJ in 2016: A Champion of Civil Rights
The Americans with Disabilities Act (ADA) is a civil rights law.
When it was passed in 1990, the internet as we know it today did not exist, and legislators have been very slow to bring those regulations up to speed.
As a result, regulations ensuring that people with disabilities have equal access to the internet are essentially missing from the ADA's language.
So, as Lainey points out, it is worth applauding the Department of Justice (DOJ) for being a true champion of civil rights by enforcing the ADA in such a way that does support equal access to the internet.
In 2016, the Department of Justice continued fighting for web accessibility by:
Actively looking for barriers to accessibility on the web for disabled persons and taking legal action to remove those barriers
Solidifying their position as experts in the ADA and saying that it does cover websites
Recognizing and fighting for mobile accessibility
Supporting the Web Content Accessibility Guidelines (WCAG) 2.0 Level AA as the universal standard
The State of Accessibility Legislation in 2016: New Guidance is Coming
While 2016 has not yet seen any major updates to accessibility law, there are still big changes on the horizon.
Updates to ADA Title II Delayed but Still Coming, Title III Changes Coming in 2018
In 2010, the DOJ said they were going to update Title II of the ADA, clarifying its application to the internet presence of state and local governments. The update was submitted for official review in July 2014.
Unfortunately, on April 29th, 2016, in a frustrating blow to advocates everywhere, the DOJ scrapped the new regulations and said it was starting the process all over again.
However, in the same motion that the DOJ discarded the old update, they also issued a new Supplemental Advance Notice of Proposed Rulemaking (SANPRM) in order to solicit additional public comment on various issues to help the DOJ "shape and further its rulemaking efforts," citing evolutions in the internet and assistive technologies. The deadline for public comment was October 7th, 2016, so assuming no further delays, Title II guidance will hopefully come sometime in 2017.
In 2013, the DOJ also announced it would discuss issuing new guidance for Title III, recognizing that accessibility for commercial entities is just as important. However, the same SANPRM that delayed Title II's new rules pushed back Title III's, as well.
Web accessibility guidelines for entities that operate web sites considered "places of public accommodation" under Title III are slated to come in 2018.
The Section 508 ICT Refresh
As mentioned in an earlier post, Section 508 of the Rehabilitation Act has undergone an information and communications technology (ICT) refresh which is slated go public this October.
The major changes will include new language that aligns the law closer to WCAG 2.0, which means more clarity as to what kind of new technologies are required to be accessible and how.
The ICT Refresh is currently being reviewed by the White House's Office of Management and Budget (OMB) and is awaiting final approval.
As previously mentioned, revisions to the ADA seemed like they were on the way this year. The main reason the DOJ decided to start from scratch was because the new regulations did not get approval from the OMB. Hopefully, this will not be the case with the Section 508 ICT Refresh.
Do Regulations Even Matter at This Point? Yes, and No.
Case law, which is derived from court rulings, increasingly favors the rights of people with disabilities.
Before the NAD v. Netflix case it was assumed that Title III of ADA limited "places of public accommodation" to physical structures. As a result of the ruling, it is now widely known that ADA regulations can be applied to online businesses.
Lainey points out that even though some organizations claim they don't know how the ADA applies to the internet because the language in the laws are not clear, the people in charge of writing the ADA are making it clear that the law does in fact cover web accessibility:
[Even] though they're going through this whole regulatory process, they make it very clear that the Department has taken the position Title II covers internet web access.
They also said the Department believes that Level AA conformance of WCAG is the most appropriate standard. So I get frustrated when I hear, well, we don't know what to do. There's no regulations. We do know what to do. The Justice Department has said, the ADA covers web access for state and local government and Title III, and that WCAG AA is the appropriate standard.
So does it matter that we don't have regulations? I say no, and I say yes. The ADA already covers digital access. That's the takeaway. That's the law in your back pocket. That's a civil right. ADA's a civil rights law. Justice Department says it covers digital.
On the other hand, we're sick of excuses. There shouldn't be any more excuses, and until we have regulations, there will probably continue to be excuses. So for that reason, I think it does matter, and it's very frustrating that the process has taken this long.
Major Accessibility Cases in 2016
Any new developments in accessibility law cases are very exciting — partly because these cases can take a long time before a decision is reached so any news is exciting — but mainly because the rulings have major ramifications for so many individuals and organizations within the US.
The case law resulting from an accessibility case ruling is a sign of how courts are interpreting the law as it applies to new scenarios and technologies, usually foreshadowing how laws will be written in the future.
Below are some major accessibility cases and legal scenarios from the year that Lainey has been following:
The DOJ's Letter to UC Berkeley
One of the more prominent web accessibility stories from 2016 is the ongoing DOJ investigation into inaccessible tech at the University California, Berkeley.
In the letter sent to the university, the DOJ claims that a great deal of educational resources at the university — namely their iTunes channel, YouTube channel, and the massive open online courses of the university — are inaccessible to people with hearing, vision, and motor disabilities.
Because the school receives federal funding, the DOJ has the right to investigate under Title II of the ADA.
In Lainey's view, this case is peculiar because the investigation is underway even though the university has an excellent accessibility department. The DOJ discovered that many of the violations found in the investigation resulted from the allegation that the university's accessibility policy was not being properly enforced.
In an effort to prevent litigation, the DOJ wants to try collaborating with the school to find solutions to their inaccessible web resources. In response, the school put a statement on their website claiming they also looked forward to collaborating with the DOJ, but they also implied that failure to reach an agreement could result in them removing their public-facing online courses.
UC Berkeley has a successful history of cooperating with outside groups to correct inaccessibility issues, so hopefully they can do the same with the DOJ this time.
NAD v. MIT/Harvard
As many in the world of accessibility already know, students represented by the National Association of the Deaf (NAD) are currently suing MIT and Harvard University over inaccessible educational video content available to the public via massive open online course (MOOC) initiatives operated by the two academic giants.
The plaintiff argues that the lack of accurate and comprehensive captioning across both platforms violates both the ADA and the Rehabilitation Act. A magistrate judge and the DOJ both support the position of the NAD. Lainey is pretty sure the law is on the side of the NAD in this major accessibility case, stating:
[It's] just sitting in the court system waiting for a district court judge to approve the findings, which we are confident will happen.
The outcome of this case will essentially determine the degree to which video captioning will be required in higher education and in the world of free, internet-only education. A ruling in favor of the NAD would mean that universities across the US will need to reevaluate whether all of their educational video content is properly captioned.
Other Cases from 2016
During the presentation, Lainey went over a lot of other accessibility cases and legal developments.Check out her website to stay on top of them all.
Here's a short list of some cases and legal developments that were mentioned in the webinar:
---
Webinar Q&A: Web Accessibility Legal Trends in Higher Education & Enterprise
In one of the highest attended webinars of this year, we were very lucky to host disability rights lawyer Lainey Feingold who presented on web accessibility trends and updates from 2016.
Lainey Feingold is internationally recognized for negotiating landmark accessibility agreements with large corporations like Bank of America, Major League Baseball, and Walmart. She is also a pioneer of the dispute resolution method known as structured negotiation, and recently authored the book Structured Negotiation: A Winning Alternative to Lawsuits available now via the American Bar Association.
Our audience was full of great questions about web accessibility law as it applies to higher education and the corporate world. Read on for condensed highlights from the Q and A session, or watch the webinar above.
" I […] think that we have more and more disabled students, more and more people growing up in the age of the ADA, recognizing their rights. "
What would you say is the biggest change regarding the law and post-secondary education in the recent year?
LAINEY FEINGOLD: I myself haven't done higher ed cases. I do know [about] the Department of Education's investigations. There was a report out that 350 complaints or investigations opened have been filed. So I think this just heightened attention.
Higher education institutions are covered by the ADA either if they're private or if they're [public].
The ADA has required accessibility for a long time. But obviously, there's heightened attention to it. All of you wanted to be on this webinar. Some of that has to do with the new players coming in and having a different approach and filing more demand letters. I also think that we have more and more disabled students, more and more people growing up in the age of the ADA, recognizing their rights.
I certainly see that in law school. When I started in, there were not that many blind lawyers. Now there are more and more younger blind lawyers, who are insisting on their rights, who are doing this work both for themselves and for clients. So I think that those all contribute to the heightened awareness of this.
Do you think companies see accessibility as a hindrance to developing and marketing new products?
" [O]ur job is to say, we are in a country that recognizes that not everybody accesses digital the same way. Not everybody sees a screen. Not everybody hears video. Not everybody has hands to use a keyboard. "
LAINEY FEINGOLD: I hope not. I hope not. It shouldn't be. I think that's all of our job[s]. I think all of us, everyone on this webinar is a champion in your own way, or else you wouldn't be here. And our job is to say, man, we are in a country that recognizes that not everybody accesses digital the same way. Not everybody sees a screen. Not everybody hears video. Not everybody has hands to use a keyboard.
And that can encourage creativity, and that can enhance the options and the wide availability of whatever is being developed. And there's a strong message that comes the other way. "Oh, my god, accessibility – it's a burden, and the law is coming down" and blah, blah.
But it's our job to see it in a different way, and that's why I like doing these presentations, because it makes me sad when the law is seen as a real negative when I know from 20 years of working in collaboration in this space that when we do bake in accessibility, companies like it. They're excited. Major League Baseball took the baton and ran with it. Bank of America, Weight Watchers, so many of the companies that we've worked with, when they understand it from the disabled person's perspective and not as some force outside that is trying to interfere with their business, they like it. They like it.
On our campus, we have two camps. One camp is not as concerned about making the deadline, and the other is terrified. Do you think it's better to wait for the discovery from the DOJ or to take proactive action now to prevent DOJ discovery?
" I think when you are proactive, and you meet your students with accessibility, and you think of it as a process of inclusion and doing well by your students, people are going to want to do it. "
LAINEY FEINGOLD: It's too bad we don't have a poll, because I would say, "what do you think I'm going to say?!"
Everyone would know that I'm going to say, be proactive. Be proactive.
I just don't understand, honestly, in this climate where you have strong government, strong advocates. Each advocacy effort that's undertaken sparks more […]. I think the Harvard and MIT lawsuits also elevated higher ed accessibility issues.
I don't know what it's called in higher ed. In law, it'd be malpractice, not to be proactive. But again, I'm not giving legal advice. But I think when you are proactive, and you meet your students with accessibility, and you think of it as a process of inclusion and doing well by your students, people are going to want to do it.
" I don't know what it's called in higher ed. In law, it'd be malpractice, not to be proactive. "
When you think of it as, oh, let's wait for the DOJ to knock on our door and fight them, people are not going to want to do it. It's human nature, which is why I like structured negotiation. I talk in the book about when you create a collaborative environment, everybody tends to be collaborative. It's hard to be confrontational when people around the table are trying to work out a solution. And that's what I've seen doing this work in this way for 20 years. That's what I try to convey in the book, how we do that. So I'm all for proactive.
Are there settlements or decisions which speak specifically to the accessibility of marketing materials?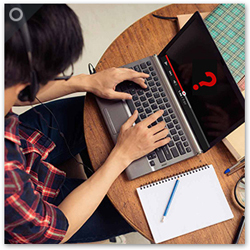 QUIZ: What Captioning Laws Apply to You?
Take this quick quiz to see which laws may require you to add captions to video.
LAINEY FEINGOLD: I'm not aware of anything where that is called out. [In] structured negotiation, we don't file a legal complaint. We don't file a negative press release. And I talk about it in the book. I have a chapter on media.
Well, our website is really just a marketing tool. We have a vendor. We don't really consider it information like online banking or health, explanation of benefits. But in fact, it was content, [and] these days the line is very blurred [around] content marketing.
The more research that I conduct about technology accessibility, the more information I find about visual or auditory impairments. Are there additional needs that we should also be considering for individuals with differing abilities, not just hearing and vision?
LAINEY FEINGOLD: Yes. That's a very good question, and a good place to start on that is the WebAIM website, webaim.org. They have a really good section on how people of different disabilities use the internet, so just two quick things.
There's a woman I know, who doesn't have hands, and she gets super frustrated by Dragon Dictate and without an accessible website and thinking about how people are using speech input are using the site. That's one issue.
And there's a lot of work going on right now for cognitive disabilities. The Web Accessibility Initiative has a cognitive task force. The Cognitive Disability Task Force is really looking at ways to make web content – and honestly, I think this is going to help people with and without disabilities – simpler, easier to access. And there's a book by a law professor in New York named Peter Blanck called eQuality, about the law and cognitive disabilities and where that might go.