Caption Format Acronyms, Explained
September 1, 2022 BY REBECCA KLEIN
Updated: February 10, 2023
---
Beginners Guide to Captioning [Free Ebook]
---
If you've just started looking into how closed captioning works, you've probably come across terms for caption formats like SRT, SMPTE-TT, DFXP, WebVTT, etc. The list goes on.
If you're drowning in a sea of acronyms, here's a breath of fresh air: a list of caption file formats broken down by name, compatibility, and use case.
What does SRT stand for?
SRT (.srt) stands for "SubRip Subtitle" file, and it's the most common subtitle/caption file format. It is a text format that originated in the DVD-ripping software SubRip, hence the name.
A SubRip (.SRT) file is by far the most common sidecar file for prerecorded web videos, and is preferred by many video hosting platforms (including YouTube) thanks to its adaptability. It can be used for both closed caption and subtitle workflows.
Elegant in its simplicity, the .SRT file can be opened up and read by a human. It is a basic text file that contains sequential numbering for each caption, its in-time and out-time, and the text content of the caption itself. When uploaded with its corresponding video, web players use the timing information to sync the captions so they display properly for end users. Some video players can decode formatting information in .SRTs (italics, positioning, etc.), but not most.
.SRTs are also an immensely popular subtitle deliverable because they can contain characters in almost any language and can sometimes be used in video editing software for rendering.
A caption frame in SRT consists of:
A number indicating which subtitle it is in the sequence.
The time that the subtitle should appear on the screen, and then disappear.
The caption text.
A blank line indicating the start of a new subtitle.
SRT caption files are compatible with videos on media players, lecture capture software, and video recording software like: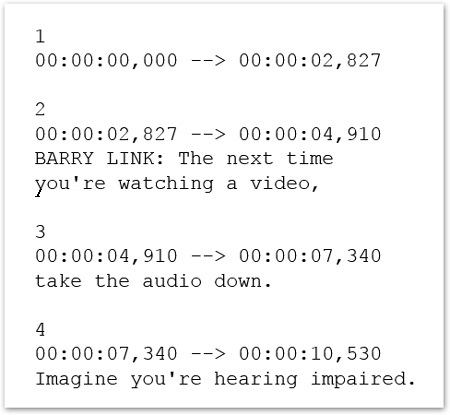 What does WebVTT stand for?
Developed by the Web Hypertext Application Technology Working Group (WHATWG), WebVTT stands for "Web Video Text Tracks." Modeled after the SRT format, it's a relatively newer, user-friendly caption format that consists of line numbers, timelines, and text with formatting options.
On the surface, .VTTs look almost identical to the .SRTs; when you look closer, they are much more feature-rich, with more universal support of stylistic elements like italics and movement of text. Some players can use .VTTs, while others like Vimeo prefer them.
WebVTT (.vtt) is similar to the SRT format except that it accommodates text formatting, positioning, and rendering options (pop-up, roll-on, paint-on, etc.). It has quickly gained popularity because it is the caption format of choice for HTML5 text track rendering.


WebVTT caption files are compatible with videos on cloud-based, HTML5 media players and video management systems like:
---
Learn everything you need to know about closed captioning ➡️
---
What does SCC stand for?
SCC (.scc) stands for "Scenarist Closed Captions." It's commonly used with broadcast and web video, as well as DVDs and VHS videos.


SCC file data is based on closed captioning data for CEA-608. i.e., Line 21 or EIA-608 broadcast data; this used to be the standard transmission format for closed captions in North America.
SCC caption files are compatible with:
What does STL stand for?
STL stands for "Spruce Subtitle File." It was developed by Spruce Technologies primarily for use in DVD Studio Pro software. The STL format allows you to configure most subtitle settings and change the settings on a subtitle-by-subtitle basis.
STL subtitle files consist of:
Commands: These are preceded by the dollar sign ($). It is these commands that allow you to configure the various aspects of the subtitles, such as their font and position.
Comments: These are preceded by a double slash (//). These allow you to add text comments throughout the subtitle file without affecting its import.
Entries: These include the start and end timecode values and the text or graphics file for that subtitle clip.
STL caption files are compatible with:
What does DFXP stand for?
DFXP (.dfxp) stands for "Distribution Format Exchange Profile." It's a timed-text format that was developed by W3C and is most commonly used for Flash video captions.


DFXP is used by many online video providers, but typically in a limited role without full CEA-608 features (making that video non-compliant with the CVAA rules for TV content online).
DFXP caption files are compatible with videos on media players, lecture capture software, and video management systems like:
---
Download the Beginner's Guide to Closed Captioning ➡️
---
What does TTML stand for?
TTML stands for "Timed Text Markup Language." TTML a class of XML file that can come in various formats, including DFXP. XML stands for Extensible Markup Language file and can come in many formats, the most common being TTML, DFXP, and SMPTE-TT. Most of these variations can be used for multiple languages, which makes them quite useful for localization and subtitling, but support of other stylistic features varies between XMLs.
TTML is often used interchangeably with the term DFXP, although there can be TTML files that are formatted slightly differently from DFXP. TTML files have the file extension (.ttml).
TTML caption files are compatible with videos on media players, lecture capture software, and video recording software like:
What does SMPTE-TT stand for?
SMPTE-TT stands for the "Society of Motion Picture and Television Engineering – Timed Text." It is a type of XML file developed by SMPTE.
Television content providers like to use SMPTE-TT because it is compliant with FCC closed caption regulations for broadcasters, unlike other formats like DFXP. Another important difference of SMPTE-TT captions is that they reference video frames instead of video time. SMPTE-TT files end is extension .xml.
Four features that set SMPTE-TT apart from DFXP/TTML:

The #image attribute can display .png images.
The #data feature allows the player to pass CEA-708 data (the standard for captioning digital TV) through to the video player, as well as CEA-608 data (the line-21 standard for broadcast TV captioning).
SMPTE-TT attributes are traditionally associated with subtitles, including foreign-alphabet characters and some mathematical symbols.
The #information feature tells the player whether to display the caption data with the original look and feel (preserve mode) or to take advantage of the more advanced display capabilities (enhance mode).
What does QT stand for?
QT stands for "QuickTime." Developed by Apple, QT is used exclusively for QuickTime Pro video or audio files.
QT is compatible with:
What does CAP stand for?
This is a common subtitle/caption file format for broadcast media.
It was developed by Cheetah International to accommodate characters in many languages for international use. Cheetah files have the file extension .asc or .cap. This format is used in professional video editing systems.
What does CPT.XML stand for?
CPT.XML stands for "Captionate XML." It's an XML format originating in the caption-embedding software Captionate and used for encoding captions into Flash video.
CPT.XML is compatible with:
What does PPT.XML stand for?
PPT.XML stands for "PowerPoint XML," a customized TTML file that works with STAMP in PowerPoint.
PPT.XML caption files are compatible with:
What does EBU.STL stand for?
EBU.STL stands for "European Broadcasting Union subtitles." This is a common subtitle/caption file format for PAL broadcast media in Europe.
EBU.STL captions are typically used in professional video editing systems, like Avid.
What does RT stand for?
RealText (.rt) captions are timed-text file for RealMedia. Similar to SMIL markup, RealText is a very simple text file that consumes minimal bandwidth and streams quickly to RealOne Player.
RealText caption files are compatible with media players:
RealPlayer
RealOne Player
What does SAMI or SMI stand for?
Developed by Microsoft, SAMI — or SMI, as it is also known — stands for "Synchronized Accessible Media Interchange." Used for Windows Media video or audio. SMI files end in either .sami or .smi extensions.
(See example to the right)
SMI caption files are compatible with video media players like:
What does SBV or SUB stand for?
SBV or SUB both stand for "SubViewer." This is a very simple YouTube caption file format that doesn't recognize style markup. It's a text format that is very similar to SRT.
Compatible with:
Other Caption File Formats
These formats are examples of customized or less frequently used caption file types. For many of these, a more common caption format may be substituted.
ADBE – Adobe
Apple XML – Apple XML Interchange Format
AAF – Avid
Avid DS – Avid
CCA – MacCaption
ONL – CPC 715
Crackle TT – Crackle Timed Text (variant of SMPTE-TT)
DECE CFF – Variant of SMPTE-TT with auxiliary PNG files
Evertz ProCAP
ITT – iTunes Timed Text
Matrox4VANC – Matrox for MX02
MCC – MacCaption
MCC V2 – MacCaption
Multiplexed SCC – Multiple CC
Rhozet – XML file
SonyPictures TT – Sony Pictures Timed Text XML
TIDLP Cinema – Texas Instruments DLP Cinema XML
WMP.TXT – Windows Media timed text file
LRC (.lrc) – No styling, but enhanced format supported.
Videotron Lambda (.cap) – Primarily used for Japanese subtitles.
---
This blog post was originally published on March 5, 2015, by Emily Griffin. It has since been updated for accuracy, clarity, and freshness.
Subscribe to the Blog Digest
Sign up to receive our blog digest and other information on this topic. You can unsubscribe anytime.
By subscribing you agree to our privacy policy.