What Publishing Houses Should Know About Video Production
February 20, 2018 BY SOFIA ENAMORADO
Updated: June 3, 2019
It's no secret that video is a powerful tool to connect with people across the globe.
Its engaging nature allows for easier dissemination of information.
Today, organizations are asking themselves, "How can we incorporate video into our communication streams?"
But producing video goes beyond having beautiful scenes and a killer script.
Effective video production requires that organization thinks about where and how they want to publish their content, as well as the accessibility of their content.
A recent report by GVPi and Renew Publishing Consultants on video streaming looked at how publishing houses, society, and institutions are handling video throughout North America, the UK, and the rest of the world.
Today we focus on how publishing houses are handling video.
The Increased Prevalence of Video
Over 90% of publishing houses surveyed predict an increase in video production over the next two years.
Why?
As the study found, large publishing houses are seeing a greater demand for video content (over 50% of publishing houses reported an increase in demand across North America, UK, and globally).
In the UK and in North America, video is predominantly used for promotional purposes and as supplementary material for articles.
On a smaller scale, video is also used for editorials and to sell products.
The majority of publishers in North America are delivering video through YouTube, followed by an organization's website and through a content delivery platform.
In the UK, an organization's website was the slightly more popular delivery method, followed by YouTube and then content delivery platforms.
YouTube's dominance in North America highlights the versatility that YouTube brings to publishers. Yet this also raises the question of, "How much are organizations caring about the accessibility of their videos?"
The Accessibility Hurdles
One of the biggest hurdles to publishing videos across survey respondents was the cost of content production, including transcripts, metadata, and closed captions.
As another question in the survey revealed, publishers throughout these regions are seeing an increased demand for transcripts, captions, and audio descriptions.
Interestingly, the demand for transcripts was higher than captions and audio descriptions in both UK and North America. By law, closed captions are required for video content – a transcript is not sufficient.
Yet, transcripts are incredibly versatile and a great way to engage viewers. Adding an interactive transcript also allows viewers to follow along and search the video. In fact, 50% of North American publishers noted that they had seen a demand in "in-video search." An interactive transcript is an easy way to meet this demand.
Depending on a company's industry, certain laws require them to make their videos accessible by adding captions, audio descriptions, and transcripts.
Yet, for 40% of publishers in North America, compliance with accessibility legislation is a significant hurdle when it comes to video production.
In the UK and the rest of the world, only 30% of publishers noted this as a hurdle.
In comparison to the other hurdles measured in the study, compliance with accessibility legislation was on the lower end of concern. This may indicate that publishers are either not familiar with accessibility laws, or they have yet to consider implementing accessibility into their video production workflow.
If we look back at how publishers are delivering videos, the dominance of YouTube as a favored delivery method demonstrates that video player accessibility isn't always a top concern. Fortunately, these accessibility hurdles can be overcome.
Overcoming Video Production Hurdles
The Web Content Accessibility Guidelines (WCAG) are a universally accepted guidelines for web accessibility.
In terms of video production, WCAG 2.0 Level AA requires that video is captioned, audio described, and has a transcript. In addition, it should be played on an accessible video player.
With proper planning, both in video production and in budgeting, overcoming these common hurdles is possible.
In terms of captioning, video producers can DIY their captions, or prioritize videos for captioning in order to save money.
In addition, if you already have captions, then you can easily create a transcript file.
With audio description, producers could incorporate descriptions into the script; that way, all important content shown in the video is also included in the audio. Alternatively, producers can use an audio description service that offers synthesized speech, which can significantly lower costs.
As for an accessible video player, producers trying to save money should consider using Able Player. Able Player is a free, fully accessible, HTML5 video player that functions across all browsers. Or, if you are using YouTube, consider using the accessible HTML5 embed, which is more accessible than the YouTube platfom.
Video Is in Demand
As the study shows, large publishing houses are seeing incredible benefits from video production.
Consumers want more video. In fact, more video is uploaded to the web in one month than TV has created in 3 decades.
So why not make it accessible for everyone?
Accessible video benefits everyone, not just for people with disabilities. Applying these features will truly help publishers expand their reach and engage viewers.
Furthermore, surveyors noted that one of their desires with video was to have greater discoverability. Fortunately, adding features like captions and transcripts can help with that.
While publishing houses continue to incorporate video into their communication strategies, they should also continue integrating accessibility features into the workflow.
---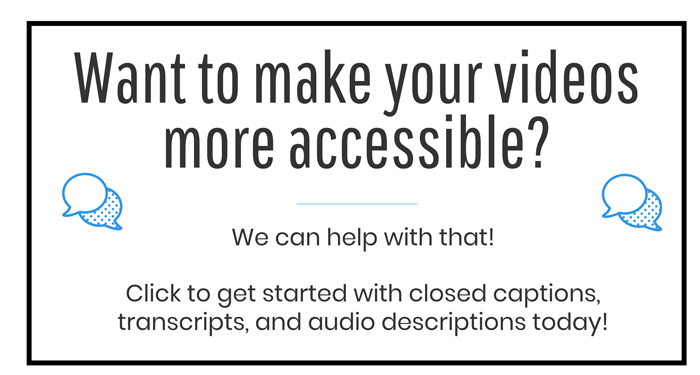 Subscribe to the Blog Digest
Sign up to receive our blog digest and other information on this topic. You can unsubscribe anytime.
By subscribing you agree to our privacy policy.