2018 ADA Website Cases Surpass 2017
October 18, 2018 BY JACLYN LEDUC
Updated: June 3, 2019
Due to the Department of Justice (DOJ) withdrawing their plans to update the Americans with Disabilities Act (ADA), we won't be seeing web accessibility regulations anytime soon. However, the lack of regulations under the ADA isn't equating to a lack of web accessibility lawsuits. The motion to update the ADA was officially withdrawn in 2017, but the number of ADA website cases still surpassed that of 2017 within the first six months of 2018. It's clear that web accessibility lawsuits aren't slowing down, making the need for regulations more pertinent than ever before.
Current State of Web Accessibility Litigation
After the DOJ's withdrawal and apparent lack of interest in regulating web accessibility, it seemed more likely that ADA website cases would become stagnant, but a report released by Seyfarth Shaw reveals that's certainly not the case. In mid-2018, less than a year after the DOJ's statement was made, web accessibility lawsuits far surpassed the amount of cases that took place in 2017. Additionally, the number of cases is estimated to reach nearly 1,500 by the end of 2018.
Not included in Seyfarth Shaw's report are state suits and demand letters, which typically threaten lawsuit before leading to a settlement which often require payment an mandatory annual website auditing.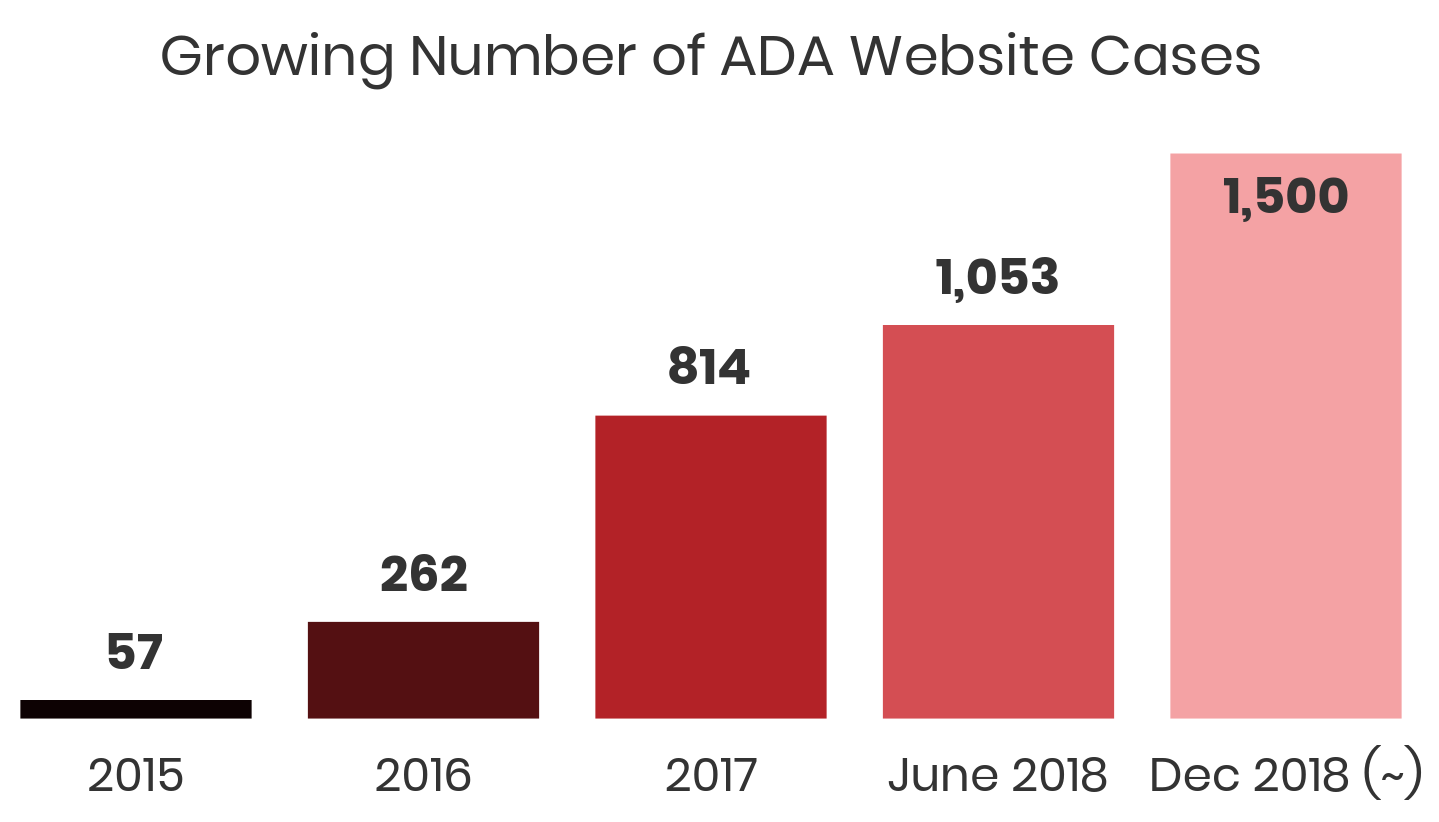 (Seyfarth Shaw LLP 2018)
ADA Website Update Put on Hold, Then Dismissed
In 2010, the DOJ announced its plans to propose regulations which govern website access under the ADA. However, on July 20, 2017, the Trump Administration published its Unified Agenda for Regulatory and Deregulatory Actions which revealed that the DOJ's ongoing project was moved to the "inactive" list. Then, on December 26, 2017, it was officially withdrawn from any further action.
The DOJ released this statement following the withdrawal:
As of now, the DOJ has indicated that it won't be giving official guidance regarding website accessibility under the ADA, which was enacted in 1990 long before widespread use of the internet. The ADA has not been amended or updated to match modern technology in its 27 years of existence. Even still, many lawsuits have been brought forward claiming that websites providing goods and services render it a place of public accommodation, therefore making it a legal obligation to make websites accessible to persons with disabilities.
Currently, there's a gray area in web accessibility regulations and litigation, and until it's addressed by either Congress or the DOJ, questions will remain unanswered.
The DOJ Confirms Their Stance
In June 2018, Ted Budd, along with bipartisan members of the House of Representatives, wrote to Attorney General Jeff Sessions encouraging the DOJ to release clear website accessibility regulations to diminish the unclear nature of current legislation.
On September 25, 2018, the DOJ sent a letter to Ted Budd in response. It stated that, at this time, the DOJ would not be issuing web accessibility regulations under the ADA. It offers a firm reminder that "the Department has consistently taken the position that the absence of a specific regulation does not serve as a basis for noncompliance with a statute's requirements."
The DOJ affirms that sites of public accommodation must be accessible and says that without explicit regulations, websites can be flexible in how they choose to comply with the ADA's general nondiscrimination and effective communication requirements.
The response to Ted Budd is hardly the answer that regulation-seekers desired, since it offers no solution to the ambiguity of website accessibility requirements under the ADA.
What This Means for Web Accessibility Regulations
Because web accessibility regulations haven't been made clear, it's easy for organizations to assume that they can't be sued. Without standards to follow, websites are forced to interpret the ADA, practicing website accessibility as they see fit while trying to avoid any lawsuits. The problem is that ambiguity goes both ways. Even though a website may think it's accessible, if a disabled person finds that it's inaccessible, there's grounds for a lawsuit.
Organizations aren't invincible simply because there's a lack of clarity in legislation. In fact, uncertainty in the law allows space for biased interpretation by anyone, including judges. Disability rights lawyer, Lainey Feingold, spoke of a growing list of judges who are leaning in the direction of the ADA applying to websites as places of public accommodation.
Andrews v. Blick Art Materials
In 2017,
Victor Andrews sued Blick Art Materials for website inaccessibility, claiming that it was nearly impossible for him, as a blind man, to independently navigate the site and purchase items. When Blick motioned for dismissal of the case, asking for a broad interpretation of the ADA, presiding Judge Jack Weisenstein denied it. He then went on to make one of the most comprehensive statements regarding web accessibility in a corporate suit:
Today, internet technology enables individuals to participate actively in their community and engage in commerce from the comfort and convenience of their home. It would be a cruel irony to adopt the interpretation of the ADA espoused by Blick, which would render the legislation intended to emancipate the disabled from the bonds of isolation and segregation obsolete when its objective is increasingly within reach.
The outcome of this case, as well as the growing numbers of ADA website cases show that websites should start considering themselves equivalent to a place of public accommodation. Even without web accessibility regulations being explicitly stated, they're still at risk for being sued.
Subscribe to the Blog Digest
Sign up to receive our blog digest and other information on this topic. You can unsubscribe anytime.
By subscribing you agree to our privacy policy.