5 Signs That You're Vulnerable to a Digital Accessibility Lawsuit
April 29, 2016 BY EMILY GRIFFIN
Updated: December 6, 2021
Disability law has a lot of catching up to do with technology, and until the DOJ issues clearer rules, lawsuits will continue to draw the boundaries of corporate responsibility for web accessibility.
In recent years, companies across industries have been targeted with legal action from the Office for Civil Rights, Department of Justice, and disability advocacy groups for failing to make their web content accessible.
How do you know if you're next?
Here are five signs that your organization might be in danger of a web accessibility lawsuit.
1. You Don't Have an Accessibility Policy (That You Know of)
The first step any organization should take to ensure inclusion of people with disabilities is to have a clear, written accessibility policy. This policy affirms a commitment to including people with disabilities in job applications and in employment, and it provides clear instructions for requesting accommodations.
The policy should be posted on your company website, included with employee orientation materials, and posted at the bottom of job listings.
Maybe your company has an accessibility policy, but you don't know about it. That's also a problem. A policy can't be effective unless it is shared and understood by everyone. Its absence could be seen as discouraging disabled job applicants, which would violate the ADA.
2. Leadership Doesn't Want to Invest in Accessibility
Web accessibility doesn't happen by accident. It takes effort, and it rarely succeeds without top-down support.
If individuals or departments advocate for accessible web practices, then perhaps parts of your company will be accessible – if you can convince leadership to fund your efforts. Departments may meet push-back on budget requests for assistive technology or remediation services if leadership doesn't understand the costs of failing to do so.
It may be that leadership isn't aware of how disability law affects the company's digital activities. It may be that they're aware of the law but don't consider accessibility to be an urgent priority. They might just be willing to bet that they won't be called out for it and can save money in the meantime.
That's a big red flag.
3. Disability Accommodations Take Forever – or Never Come at All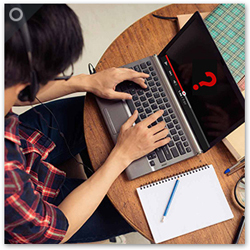 QUIZ: What Captioning Laws Apply to You?
Take this quick quiz to see which laws may require you to add captions to video.
Your company may have good intentions of accommodating people with disabilities, but if those accommodations take an unreasonably long time, then it's still violating accessibility law.
Part of reasonable accommodations is timeliness.
If a deaf employee requests a transcript of a virtual meeting and doesn't receive it for two weeks, then they likely missed out on important information that they needed for their job in the interim. That puts people with disabilities at an unfair disadvantage — a strong case for an ADA lawsuit.
What's even worse is if your company ignores or denies accommodation requests.
FedEx Ground found itself fighting a lawsuit for its failure to accommodate deaf workers with assistive devices, closed captioning, and ASL interpretation for company meetings and trainings.
4. You Accept Federal Funding
If your company accepts federal grant money, then you're covered by more than just the ADA.
Section 504 of the Rehabilitation Act extends specific web accessibility requirements to any organization that receives money from the US federal government. Those requirements are outlined in Section 508, which is even more explicit about web accessibility than the ADA is.
Section 508 will be undergoing a refresh to require WCAG 2.0 Level AA compliance, the emerging international standard for digital inclusion.
In short, if your company receives money from the federal government, you are subject to stricter standards for accessibility.
5. You Use Technology for Employee Training, Communications, or Recruiting
One thing the ADA specifically protects against is job discrimination.
When your company uses inaccessible technology to train people, disseminate company-wide communications, or accept job applications, you're vulnerable to an ADA lawsuit.
For example, it's common for companies to use eLearning platforms for onboarding new hires. Maybe an employee needs to watch a few videos, read some PDFs, and take a test in an online learning portal.
Sounds simple enough, right?
But it's not so easy for a deaf employee to watch an uncaptioned training video. Or for a blind employee to read an unformatted PDF.
Some online learning portals themselves are inaccessibly designed, lacking keyboard navigation or logical semantic structure.
What to Do About It
If one or more of the above is true of your organization, it's time to take action.
The best advice from those who've dealt with accessibility complaints in the past is: be proactive.
Don't wait until you get an accommodation request from an employee, a disabled job applicant, or a threat of legal action.
The best way to mitigate your risk for an accessibility lawsuit is to:
Craft an official accessibility policy and make it widely available internally and externally.
Send a clear message from C-level leaders that web accessibility is a priority.
Allocate a budget for accommodations and assistive technology.
Train employees and hiring managers on inclusive design practices.
Consider accessibility in new software procurement processes.
Dedicate an individual or committee responsible for overseeing corporate web accessibility.
Have clear, efficient processes in place to oblige accommodation requests.
Transcribe and closed caption all internal and external company communications, conference recordings, training videos, and webinars.
Regularly test your company's website and product or service for accessibility.
More Info on Corporate Accessibility
Check out these resources for more tips on achieving corporate web accessibility and protecting your company from disability lawsuits.
Demystifying Corporate Web Accessibility: Q&A with John Foliot of W3C
How Do You Handle a Web Accessibility Complaint from the Office for Civil Rights?
What Happens When the DOJ Comes Knocking? UC Boulder's Cautionary Tale
Explore closed captioning solutions for your company here:
Subscribe to the Blog Digest
Sign up to receive our blog digest and other information on this topic. You can unsubscribe anytime.
By subscribing you agree to our privacy policy.