Do Higher Education Institutions Understand Their Legal Obligations to Closed Caption Videos?
March 15, 2017 BY ELISA LEWIS
Updated: February 23, 2021
Between the ADA, Rehabilitation Act, and state laws, most, if not all, higher education institutions in the US are legally required to provide closed captioning for recorded lectures, online courses, class materials, and other video content used for teaching and learning. However, despite the legal obligation to do so, the implementation of closed captioning has proven to be challenging for many colleges and universities.
Dr. Katie Linder, Research Director at Oregon State University Ecampus Research Unit, in collaboration with 3Play Media, conducted the largest IRB-approved study on institutional implementation of closed captioning. Titled "Implementation of & Solutions for Closed Captioning in U.S. Institutions of Higher Education," the study collected data from 47 colleges and universities nationwide. The results of the study, which are discussed in this blog, paint a clear picture of the confusion and inconsistencies around the legal requirements of captioning, and point to several areas for opportunity and improvement.
Study Questions and Results
Understanding the Laws
One of the questions in the study asked, "How confident are you that you understand the legal requirements for your institution to be in compliance with federal and state laws regarding closed captions?" The majority of respondents, about 81%, selected that they were either "confident" or "very confident" that they understand what their institution's legal obligation to caption is. Only fewer than a handful of respondents said that they were "unconfident" or "very unconfident" that they understand these laws.
After answering this question, respondents were then asked to describe their understanding of what it means for their institution to be in compliance with the laws at the federal and state level. About 51% said that being in compliance with the laws would require them to proactively caption all videos. However, as you can see by the varying answers in the graph below, there is a lot of confusion in regard to what closed captioning laws require for institutions of higher education.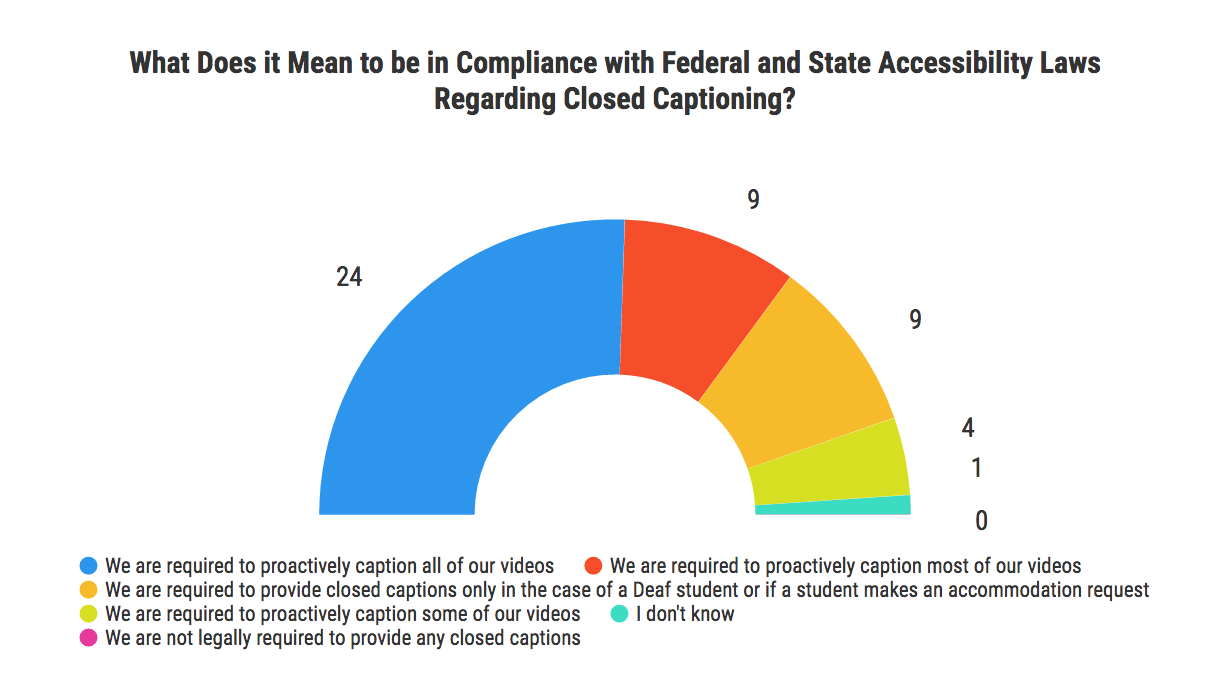 Given their differing understandings of how the laws apply, participants were also asked the extent to which they feel their institutions are meeting closed captions requirements. A whopping 79% of survey participants believed their institution was only partially meeting requirements for closed captioning, and only slightly more than 15% answered that they believe their institution is either meeting or exceeding requirements. These results are alarming, as it seems a number of institutions of higher education are aware that closed captioning laws exist, but are unaware of the implications of these laws at their institutions.
Want to better understand what laws apply to your institution? Take our quiz, "What Captioning Laws Apply To You?"
Why Institutions Are Captioning
In addition to learning how institutions perceive the requirements of closed captioning laws, we were also interested in finding out what drives institutions to caption their videos. We asked respondents if captioning was part of a greater campus-wide initiative. For the majority of institutions, the answer was either no or that they weren't sure. For about a quarter of respondents, they did report having a campus-wide initiative around closed captioning. In fact, the top two reasons for captioning on campuses are to be in compliance with the laws and to avoid potential litigation. It was interesting to find out that being compliant with the laws is the top reason institutions caption videos, as this directly contradicts the prior question which determined that 79% of respondents believed their institutions only partially meet requirements for closed captioning. It is clear that educating individuals at these institutions on the requirements of closed captioning laws is necessary in order to make sure that everyone at these institutions can gain a correct and accurate understanding of what the laws are. Understanding the legal requirements will in turn allow these institutions to create a consistent and strategic process for implementing these laws and captioning videos.
How Are Institutions Monitoring their Compliance?
With the majority of these institutions citing compliance with the law as the top reason for captioning, we wanted to better understand how institutions are monitoring their compliance. We asked participants, and discovered that over 50% of the institutions are in fact not monitoring compliance. Another 20% were not sure if it's being monitored. That leaves only a little over a quarter of the institutions in this study which are monitoring their compliance with closed captioning. This points to a pretty significant issue, as being compliant with the laws is the top reason for most institutions to close caption their videos. Without a way to accurately measure their success in meeting this goal, the effort to meet compliancy is pretty much futile. However, as previously mentioned, the first step in being able to measure the set goal is understanding what the requirements for being compliant with the laws are.
Why Institutions Are Not Captioning
In addition to asking participants why their institutions caption, we thought knowing why institutions are not captioning videos might give more insight into the challenges and inconsistencies with captioning. As it turns out, the most common reason for not captioning is a lack of general awareness. Other common reasons include "budget not existing," "staffing is inadequate," "it's unclear whose responsibility it is," and "there isn't buy-in of administration to caption videos." A number of institutions also pointed out the time (19 respondents) and financial (18 respondents) burdens of implementing closed captioning as reasons why it was not occurring on their campus.
Conclusions
What we see in this study is that people understand on a basic level that there are legal requirements to provide captions. Additionally, several of the findings in this study have determined that institutions believe captioning to be necessary. However, the responses also provide evidence that there is significant confusion about the legal requirements of closed captioning of videos, and what being in compliance with these laws actually looks like. The chart below details precisely where there's a disconnect. 81% of institutions are confident they understand the legal obligation to caption. 51% of respondents say their legal obligation is to proactively caption all videos. However, only 15% say they're meeting or exceeding requirements, and only 8% are captioning all their videos.
Places for Improvement
The legal requirements around closed captioning for institutions of higher education should be more clearly outlined. Institutions should be provided with clarification regarding what must be done proactively and reactively concerning the creation of closed captions for students who require accommodations. Once clarification of the law occurs, they should be communicated and discussed by representatives from several departments to ensure that there's a clear and consistent understanding across the institution, not just among several individuals. Institutions should also create and follow processes and protocols for monitoring closed captioning implementation. One way to do monitor this closely is by creating systems to inventory video creation.
From promotional videos to course material, videos serve a multitude of purposes for institutions of higher education. Reviewing institutional processes for implementing closed captions would increase efficiency and awareness of institutional solutions for closed captioning for videos.
__
You can see highlighted stats from the report on the study landing page and download the full 70-page study at the link below.
Subscribe to the Blog Digest
Sign up to receive our blog digest and other information on this topic. You can unsubscribe anytime.
By subscribing you agree to our privacy policy.