How to Produce WCAG-Compliant Video Captions and Audio Descriptions
April 24, 2018 BY PATRICK LOFTUS
Updated: March 16, 2021
If you want your video content to comply with the Web Content Accessibility Guidelines (WCAG) 2.0 Level AA then you need captions and audio description. But how do you determine what constitutes "WCAG compliant" captions or descriptions?
What standards are your captions supposed to meet? What kind of quality and accuracy is required? And how is audio description judged according to WCAG standards?
The Standard: WCAG 2.0 Level AA
If you hear the term "WCAG compliant," there's a pretty good chance it's referring to WCAG 2.0 Level AA.
Especially when it comes to online video, WCAG 2.0 Level AA is considered the industry standard for web accessibility. WCAG 2.0 Level AA is also the most commonly referenced standard in accessibility laws and policies around the globe and in the US — including Section 508 of the Rehabilitation Act.
To achieve WCAG 2.0 Level AA conformance, Level A standards must also be met. Below are captioning and audio description requirements for Levels A and AA:
Level A: (1.2.2) Captions are provided for all prerecorded audio content in synchronized media, except when the media is a media alternative for text and is clearly labeled as such. (1.2.3) An alternative for time-based media or audio description of the prerecorded video content is provided for synchronized media, except when the media is a media alternative for text and is clearly labeled as such.
Level AA: (1.2.4) In addition to Level A compliance, captions are provided for all live audio content in synchronized media. (1.2.5) Audio description is provided for all prerecorded video content in synchronized media.
This means open or closed captions must be provided for both prerecorded and live video and audio content. To meet Level AA audio description requirements, audio descriptions must be "provided for all prerecorded video content in synchronized media."
What are WCAG compliant captions and descriptions?

W3C, the World Wide Web Consortium, which created WCAG, does not have anything like exact compliance metrics for measuring the quality of captions and descriptions. There is nothing on their website that says, your captions must be X percent accurate (although the generally accepted industry standard is at least 99% accurate), or your descriptions must be this long or this "descriptive."
Instead, WCAG 2.0 takes a broader approach to accessibility by simply requiring all web content to obey each of the POUR principles. Essentially, this means your accessible web content needs to be designed so that it provides an equivalent experience for users with disabilities.
But how do you know when an equivalent experience is being provided?
Your best bet is to stick with general industry standards for captioning and description that have been developed over time by web accessibility experts and industry leaders.
For captioning, we've compiled the best industry practices using information from the National Association of the Deaf's Captioning Key, the FCC, and our own captioning guidelines.
For an approachable guide to audio description, check out the American Coucil of the Blind's guidelines. You can also use the DCMP Description Key.
More general industry guidelines like these for captioning and audio description are listed on the WCAG 2.0 website.
Legal Settlements Referencing WCAG

To understand what compliance is, sometimes it helps to know what compliance is not.
In 2015, edX, the online learning platform co-owned by Harvard and MIT, settled a complaint from the US Department of Justice about accessibility issues on the edX website including failure to provide accurate and comprehensive captioning across video content in the platform's courses.
EdX agreed to make their website fully accessible, develop a web accessibility policy, and urge course providers to make web content accessible before publishing to edX. In this case, WCAG 2.0 Level AA was referenced as the standard for web accessibility practices including captioning.
Netflix was sued by the American Council of the Blind (ACB) for not providing audio description on their streaming movies and shows. Netflix settled with ACB in 2016. This settlement agreement also adopted the WCAG 2.0 Level AA as the accessibility standard for audio description Netflix would need to meet in remediating their video content. Today, the ACB considers Netflix the dominant provider of streaming audio description on the web.
Pro Tip: Imagine the End User
If you're wondering whether your captions or description are WCAG compliant, it's best to try and imagine yourself as the end user. You can even try turning off the audio or closing your eyes while playing your video content.
For instance, if the font is not easily readable, spelling accuracy is an issue, non-speech sounds are missing from the captions, or your captions are not properly time-syncronized then they are not WCAG compliant.
If your video doesn't include audio description or a description track, if the description track is impossible to activate with a keyboard, if the description misses important information in the video, or if you shut your eyes and feel like you are missing important visual information, your video is not WCAG compliant.
Use a Vendor or Do Your Own Testing
The only real way to know for sure that your captions and descriptions are compliant is to audit them.
To test whether both open and closed captions pass Level AA requirements, W3C basically recommends that you just watch the video content with captions on and ensure that "captions (of all dialogue and important sounds) are visible" — keeping in mind that those visible captions provide an equivalent experience for any viewer who cannot hear. For audio description, W3C says "check that the ability exists to turn on the audio track that includes audio descriptions" and that "gaps in dialogue are used to convey important information regarding visual content."
You could also work with a vendor that is WCAG 2.0 Level AA compliant so that you don't need to worry about auditing to this degree. Start by checking out these vendor checklists for captioning and audio description.
---
Looking for captions and audio descriptions that comply with WCAG 2.0 Level AA? Get started with 3Play today!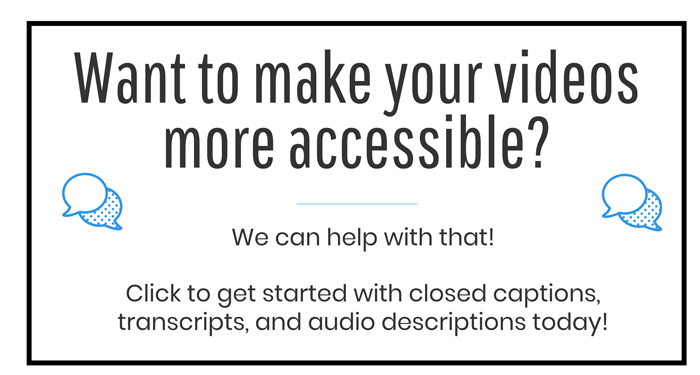 Subscribe to the Blog Digest
Sign up to receive our blog digest and other information on this topic. You can unsubscribe anytime.
By subscribing you agree to our privacy policy.