From Television to Trending: Online Video and Captioning On the Rise
August 6, 2018 BY JUSTIN AL-QUDAH
Updated: May 21, 2020
Picture this. You're back in your childhood, outside playing in the backyard, when your playtime is cut short (because it always was) by you being summoned inside for dinner around the table with your family. After you've finished all your vegetables, you get to sit around something else, a little more glamorous than the meatloaf you were all just focused on – the television. This treat of getting to watch a video is less of a focal point in modern society, and more of a staple in your day to day with more video content being uploaded to the web in 1 month than TV has created in 3 decades.
Whether voluntarily or not, we're constantly consuming video. This could be catching up on the political climate during your morning commute, you sneaking in a funny dog video on your work computer in between meetings, or our favorite, binge-watching the newest phenomenon, 'The Marvelous Handsmaids Game of Stranger Things' (or whatever all that office chatter seems to be about at the moment).
To help us understand the current state of closed captioning in 2018 and correlate this to online video trends, we surveyed 1,542 people from numerous industries, including higher education, corporate, media & entertainment, government, religious organizations, and nonprofit organizations to develop the State of Captioning 2018 Report. Something we know to be true is that video is constantly being consumed, and luckily for viewers, it doesn't look like video is going anywhere, with 78% of people watching videos online every week in 2018, up from 74% in 2017. They say video killed the radio star – well we're here to tell you, it's still reigning supreme, moving from platform to platform and coming out more successful than ever, even as those platforms become obsolete (RIP Vine).
and viewers seem to be okay with that.
With all these online videos to watch, how do people remain social? The answer is probably already on the tip of your tongue – social media. The belief that sharing is caring was instilled in all of us as children, and still is passed on to younger generations, but now, the form of sharing has changed. Instead of having to share your happy meal (which we were never happy about), we share an experience, sending out videos that we know have a significant meaning for others. But what if there was a part of the population that wasn't able to share in this experience with us? There is – the deaf and hard of hearing communities, but luckily enough, there's already a solution in place that is on an upward trend.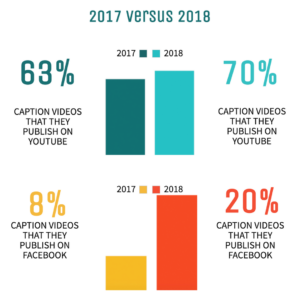 On Facebook and Youtube, we've seen accessibility trends on the rise, with Facebook taking an even greater leap, going from a mere 8% of video being captioned in 2017, to 20% in 2018 –
doesn't that just tickle you?
This rise in online video captioning, especially in the social space, is one which seems natural with the progression of video as the largest form of online content. There's been unbelievable strides made in video since you were a kid sitting around the television with your parents, and captioning fits right in there as the next step. Policies for captioning compliance are even more integral for companies in 2018 than ever before, with 89% of organizations publishing or producing content, compared to 75% in 2017. There's not only an increase in number of companies producing or publishing content, but also an upward trend in how much content is being produced at these companies, with 29% of organizations publishing more than 500 hours of video content in 2018, compared to 17% in 2017.
In 2018, we saw that 51% of organizations have or are establishing a policy for captioning compliance at their institution and that 32% of organizations have an annual captioning budget of over $10,000. It's easy to draw the conclusion that companies are beginning to understand the inherent value in video accessibility and how important it is to allow for all viewers to have the same experience.
The State of Captioning in 2018 has already seen drastic changes since we released our 2017 State of Captioning Report last year and with 75% of respondents seeing their captioning needs increasing over the next year, we can only imagine what the State of Captioning will be like in 2019. Interested in learning more about the State of Captioning in 2018 and finding solutions that take the guess work out of captioning to meet your organizations needs?
Subscribe to the Blog Digest
Sign up to receive our blog digest and other information on this topic. You can unsubscribe anytime.
By subscribing you agree to our privacy policy.